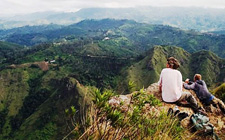 Ayubowan!................... a warm welcome to the "Heaven's Edge - Ella" (Meaning, that is wishing "May you live longer and be healthy'' in Sinhalese.
Everyone's dream is to sit as close to nature as possible, Wake up with a waterfall falling down in the distance, sit close to the stars, to watch the sunrise undisturbed, to take in fresh unpolluted air as you yawn yourself awake in the morning. This is reality in every sense of the word...in fact, a dream come true.
We are pleased to introduce the "Heaven's Edge" hotel in Ella which has been recently opened with a concept of exclusivity for those who relish nature & adventure. Consisting of 30 luxurious rooms complete with all modern amenities, the "Heaven's Edge" boast of the best view point over the world famous "Ella Gap" in the midst of diverse vegetation or one of the best view's Sri Lanka can offer for its visitors. "Heaven's Edge" , situated on the top of the Ella-pass at an elevation of 3300ft, (Top most place for a hotel) looking at the vast coastal plain below, as far as the eye can reach!
Hotel Heaven's Edge is the sister hotel of Hotel Country Comfort also situated in Ella - which was established in 1996.
Ella, situated in the intermediate climatic zone where the average temperature varies between 13 - 25°c due to the picturesque hills surrounding the area is an ideal location in the Uva province for an un spoilt holiday with a tempting variety of diverse attractions - Nature, Wildlife, Culture etc. being a pre-dominantly agricultural area.
Ella and legend are intertwined. Sita, the beautiful wife of Rama, is said to have been hidden in the caves at Ella by Ravana, king of Lanka, according to the Ramanaya, the great Indian epic dating to more than 1,000 years before Christ.